Our client, Aero Dyne Sound Control, recently published a complete guide to job searches for HVAC design engineers.
This is a good example of a company building content around information that is helpful to their customers, even though the information is not directly related to the products or services that Aero Dyne sells.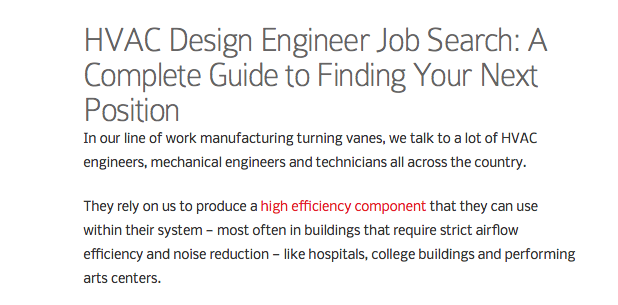 The reality is that Aero Dyne only sells one product. After a while, there are only so many things to say about the turning vanes they manufacture and then are installed inside of HVAC duct systems to help them run more efficiently and quieter.
However, their customers are HVAC designers, engineers and technicians. They also sell to sheet metal contractors and other firms who create the actual ductwork that goes into commercial buildings.
Obviously, job search is a big topic and one that is important to a lot of people…including Aero Dyne's clients. By providing a helpful guide to job searches in this specific area, Aero Dyne is directly or indirectly helping its clients who may be looking for a new position.
Additionally, by creating this content and then sharing it, Aero Dyne is able to drive new, targeted traffic to it website and create greater awareness around its brand. As the job search guide is shared online, it will also help to build backlinks to their website. That's the foundation of content marketing.
Interested to find out more about how content marketing can help drive new leads to your website? Click here.