One of the main factors affecting local websites (like those for companies here in Plant City) is what's called "Responsive Website Design or Mobile-Friendly Website Design."

Just over the last few months, Google has been using responsive website design (RWD) as a "ranking factor" to determine how your website is ranked within the search returns when someone does a Google Search for your product, service or other information.
What is Responsive Website Design?
A good definition (from the website Business2Community.com) says that an RWD website can serve any device or screen size, so you do not need to design separate websites for mobile, tablet, and desktop devices. It means your website is a one-size-fits-all website that works for every user, everywhere.
Why is a Mobile-Friendly Website Design Important to Plant City Businesses?
The main advantage of RWD is that it allows for one URL and single content source. That means there is no confusion for Google in recognizing your website and no confusion for the person trying to visit or use your website.
That essentially means that if your website was designed to be "mobile-friendly" it will rank higher than a competitor's website. Obviously, Google also considers many other factors when ranking websites (like how well optimized your website is for keywords, how 'authoritative' your website is, how many inbound links you have pointing to your website, how many pages your website has…and much more).
A Mobile-Friendly web design will affect:
Your website's Google rankings
Your customer's ability to use your website
Google Rankings: Google uses over 200 factors to determine how to rank your website. A responsive website design is weighted more heavily than other factors.
Customer Usability: if someone visiting your website can't quickly find the information they're looking for, they'll leave your website quickly. That's not what you want.
What Should You Do With Your Website?
The first thing to do is to check that your website is recognized as mobile friendly by Google. You can do that here with Google's Mobile Friendly Test Tool. Click here to check if your website is mobile friendly.
Below is the result of checking the ExoCreative.com website: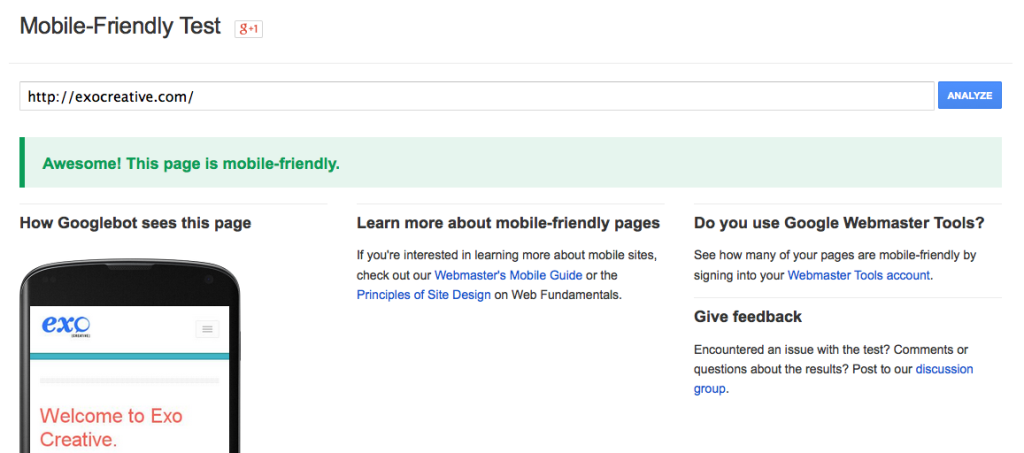 If you're website is Mobile-Friendly, congrats!
If your website is not Mobile-Friendly, then you'll want to consider reaching out to your website designer to see what solutions they can provide you. This could mean updating your website completely (an overhaul that would bring your site up to speed for cell phone use – and probably for a variety of other factors as well) or it could mean creating a mobile-friendly version of your website (more of a quick-fix, less-expensive fix).
Remember, the decisions you make regarding your website should factor in to your overall marketing objectives, goals and operational budget. Speaking with a trusted marketing firm could help you with those decisions.
Here are some great resources for further reading:
The Next Web: How to Make Your Site Mobile Ready
Business News Daily: Google Gives Mobile-Friendly Sites a Boost in Search Ranking
Moz.com: How to Ace the Google Mobile-Friendly Test & Score 100%