A report this week in the Tampa Bay Business Journal says that Downtown Tampa is leading the way in a "recovery of the Tampa Bay office market." This is good news for two of our local Tampa clients who assist businesses with their office relocation and with office furniture installation services.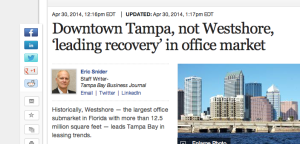 Read the full article at TBBJ.com here. When companies decide to move their office, whether between floors or across town, they turn to companies like Office Movers of Florida and their sister company Office Installers of Florida.
These two companies provide the muscle behind properly moving cubicles, desks, conference tables, filing systems and just about anything else that might be in an office environment. The movers are also trained installers who work with all name brands of office equipment and furniture. They are the guys responsible for assembly of cubicles and wall panels as well as other aspects of getting an office set up.
With more activity occurring in Tampa, Westshore and throughout Tampa Bay, it looks like Office Movers of Florida and Office Installers of Florida could see an increase in bookings.