Looking to get your product or service in front of decision makers in a variety of industries here in Tampa Bay?
Try this quick tip:
The Tampa Bay Business Journal has a section of their website called People on the Move in Tampa Bay (click the link).

When you visit that page on their website, it shows you a thumbnail of the person 'on the move' – a new hire, a promotion, etc. and where they work. If you click on their picture, you'll get a little backstory on their promotion, new job, etc.
Here is a snapshot of the page from May 28, 2015: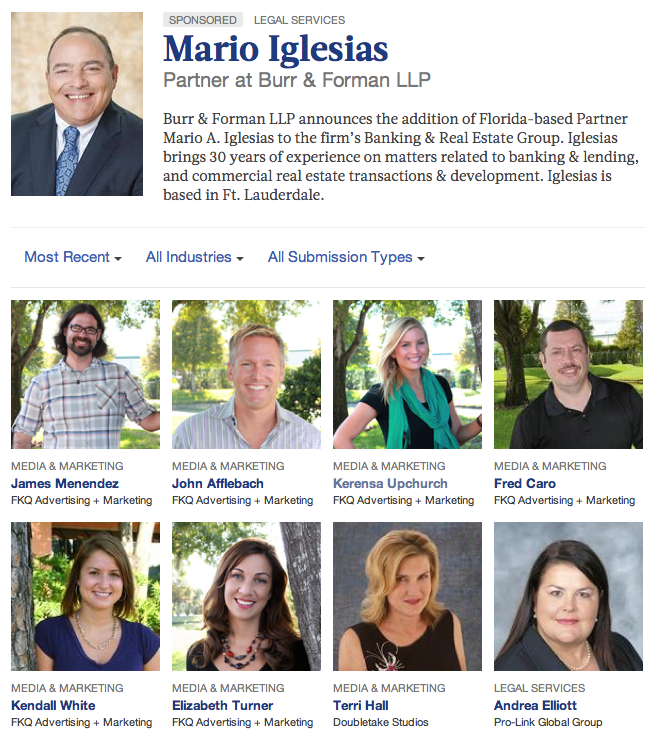 Apparently FKQ Advertising + Marketing has been busy this week.
Here's the Tip:
A smart marketer now has information on who's 'on the move' and why. Isn't that a great time to reach out to them? People who are going through a positive transition are generally open to new ideas.
A quick Google search will give you their company address. A personalized letter congratulating them on their new hire, promotion, etc. could reap benefits for you as a marketer. Who wouldn't open a letter in their first few weeks of working in a new position?
That's effective direct mail right there. Your opening rate would be likely be very high. And your return on investment? The cost of a stamp and the time to craft a quick letter. That could easily be part of any lead generation, list building, cold calling or prospecting your already company does.
With FKQ for example, someone could reach out to one of the folks listed there, congratulate them and be creative with a pitch or offer. Or just go with a non-sales approach and seed your brand.
Maybe for FKQ (who is an ad agency), you could pitch media services. Commercial realtors could be pitched by cleaning service companies. You get the picture. If your product or service is associated with what a 'person on the move' does, you have a reason now for reaching out.
Go Deeper:
The TBBJ also lets you segment the People on the Move. Sort by industry, date, etc. (see below).